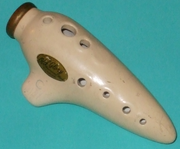 The Old Glory Company was a historical American ocarina-maker located in Dundee, Illinois. They produced a range of patriotic-themed ocarinas, available in red, creamy white, and blue.
Please insert information regarding Old Glory's history here.
Old Glory Ocarina was in business in the 1920's. They had a cork plug that could be used to tune to other instruments.
Their standard line was in the traditional sweet potato form, with nine holes. Unlike European-made nine-hole ocarinas, the mi-2 hole was not for the left little finger, but was moved to the bottom for the right thumb, as in modern Japanese ocarinas. This configuration made it much easier to cover that large hole. This line came in the following sizes: Alto Eb, Alto C, Tenor Bb, Baritone G, and Bass C.[1]
They had a second line, which was similar to the standard line, but was brown, and in the form of a jug, perhaps to appeal to the jugbands of the day which sometimes used ocarinas. The name of this line was Jugarina.
Distinction
Edit
They were equipped with a cork tuning slide, for fine tuning with other instruments. This, along with their use of higher quality ceramic, set them apart from their competitors in the 1930's.[2]
References
Edit